Our Home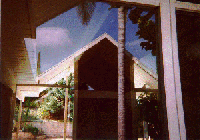 My family and I recently realized a long-standing dream -- to own a home that embodies good functional modern architecture, has a wide-open California "feel" to it, and is a joy to live in.
Left: Reflections of -- and through -- our central atrium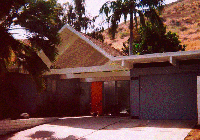 Our home is an "Eichler" built by iconoclastic real estate developer Joseph Eichler who believed that uncompromisingly fine design could be made affordable and should be made available to those capable of appreciating it.
Right: Our front door which enters into the atrium.

While thousands of Eichler Homes were built in Northern California, ours is one of only about four hundred which were built in Southern California. Our development consists of 67 homes designed by noted architects Frederick Emmons and A. Quincy Jones (like ours) or by Claude Oakland. The house is built around a central atrium, open to the sky, which the main rooms face and open out onto. The "walls" which divide the house from the atrium in the center and the yard to the rear are floor-to-ceiling sheets of glass which slide open for air and light.
Left: Entering our glass-walled living room from the atrium.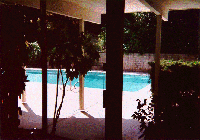 Ours is the five-bedroom, two-bath model with the pitched roof. Two of the bedrooms have been combined into one huge master bedroom for Steve and me while Matt has the former master bedroom which faces the pool. Steve and I each have our own offices in the two remaining bedrooms.
Right: The view from Matt's bedroom.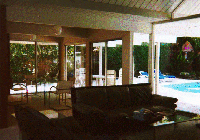 The interior is very light and bright. In addition to the walls of glass, there are several skylights. Eichlers are so breezy and cool that they don't need air conditioning. Instead of forced-air heat and furnaces they have "radiant" heat with hot water flowing through pipes in the floor to warm the house. This is a heating system Frank Lloyd Wright often used.
Left: Looking from the living room into the dining room.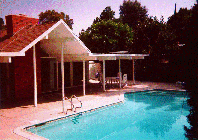 This is the first time we have had our own pool and we love it! Over to the right of the pool, where you can't see it is an eight foot tall papier-mache Tiki idol which is left over from the time they filmed an Hawaiian Punch commercial in our back yard.
Right: The back yard and pool area.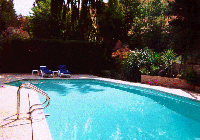 If you want to find out more about Eichler Homes, check out the Eichler Network on the Web. In additon, there is a new book all about them titled Eichler Homes: Design for Living by Jerry Ditto. It is filled with beautiful pictures, information about these homes, and the story of Joseph Eichler, the visionary who built them.
Left: Poolside.
---
Back to Betsy Speicher's Home Page